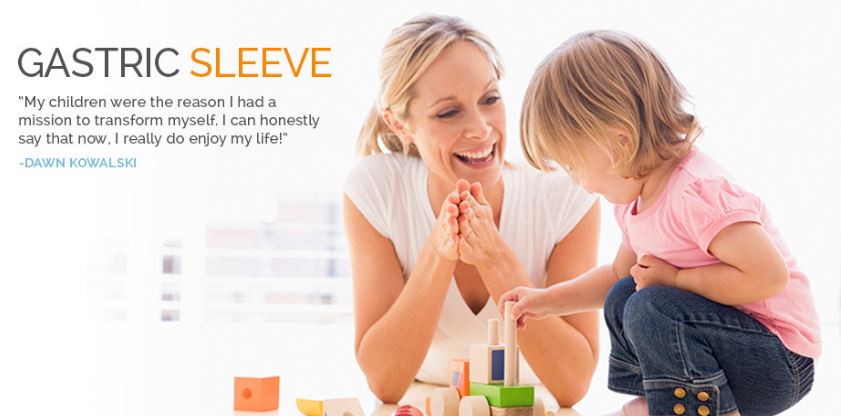 Sleeve gastrectomy
is a relatively new bariatric procedure, during which the surgeon creates a small, sleeve-shaped stomach with the capacity of about 3-4 ounces. It is larger than the stomach pouch created during Roux-en-Y gastric bypass and is about the size of a banana. Unlike the gastric bypass, gastric sleeve does not involve re-routing of the intestines or malabsroption of calories and nutrients such as iron, vitamin B-12, and calcium. As a result of decreased stomach capacity, patients are less hungry and feel full sooner when they eat.
The surgeons at Christiana Institute of Advanced Surgery perform this procedure using minimally invasive techniques.
Sleeve Gastrectomy Results
Short-term gastric sleeve results indicate that patients can lose 45%-64% of their excess body weight at 12 months, with significant resolution of obesity related illnesses. Long-term data (5 years or more) is not yet available on this procedure.
Co-morbid condition resolution 12 to 24 months after sleeve gastrectomy has been reported in 345 patients.
Sleeve gastrectomy patients experienced resolution rates for type 2 diabetes, high blood pressure, high cholesterol, and obstructive sleep apnea that were similar to resolution rates for other restrictive procedures such as adjustable gastric banding.*
Potential Patient Concerns
Gastric sleeve procedure complication rates are similar to laparoscopic gastric bypass and include gastric leak, bleeding, infection, and blood clots that can lead to pulmonary embolism.
Because sleeve gastrectomy involves stapling of the stomach but does not required intestinal re-routing, long-term complications that may require reoperation are similar to, but less frequent than, those for gastric bypass.
**American Society for Metabolic and Bariatric Surgery. ASMBS Position Statement on Sleeve Gastrectomy as a Bariatric Procedure. 3 September 2007. JAMA 2004;292(14):1724-37.